Why are CSV reports not formatting normal in Excel?
Last updated
Overview
When you export a report using CSV Comma Delimited format it opens in Excel, but is not formatted in columns like a normal Excel spreadsheet, you want to know why it is not opening normally in Excel.
Environment
Avalara AvaTax
Resolution
Change regional settings on your computer so that it recognizes the comma as the separator when Excel converts the data:

Go to Start > Control Panel > Regional and Language Options
Click Additional Settings

For Decimal Symbol, enter a dot: .
For List Separator, enter a comma: ,
Save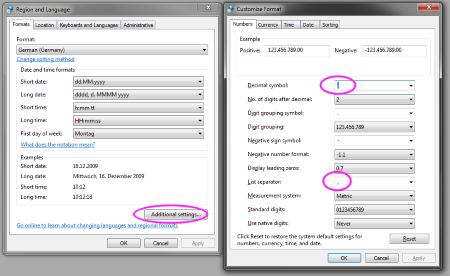 Restart your computer
Now, when you open a CSV file in Excel, it will automatically find the data fields and open it appropriately
Note: In Windows based machines you specifically set what to expect as the "List separator" in Regional Settings within the Control Panel. Since machines in Europe are automatically set to look for a semi-colon ; instead of a comma , a comma separated value (CSV) file automatically opens in Excel, but is not automatically formatted in the expected way.